Power Range:
65 - 500 kVA
Uninterrupted Quality Power For Mission Critical Applications.
The enhanced levels of quality, reliability and energy savings offered by the Master HP range of UPS have been extended to include a 480 Vac - 60 Hz version, certified as UL/CSA, with power ratings from 65 kVA to 500 kVA, in single module or parallel configuration.
IT managers, facility managers, and CTOs are under increasing pressure to reduce downtime and assure that their critical loads are supplied with uninterrupted and high quality power.
With this increasingly stringent requirement, Riello UPS has invested in power solutions that meet strict demands; a commitment resulting in the launch of the Master HP UL range.
More than just an innovative and technologically-advanced UPS, it is a leap into the future of three-phase technology.
With its double conversion on-line technology based entirely on IGBT and digital signal processors (DSP), the Master HP UL range ensures maximum critical load protection, with VFI SS 111 classification (Voltage and Frequency Independent) in accordance with IEC EN 62040-3.
This range is designed using a new configuration that includes an IGBT sinusoidal input rectifier. Unique in its design, double conversion technology with galvanic isolated output guarantees a quality power supply that is completely protected from all electrical anomalies at the input.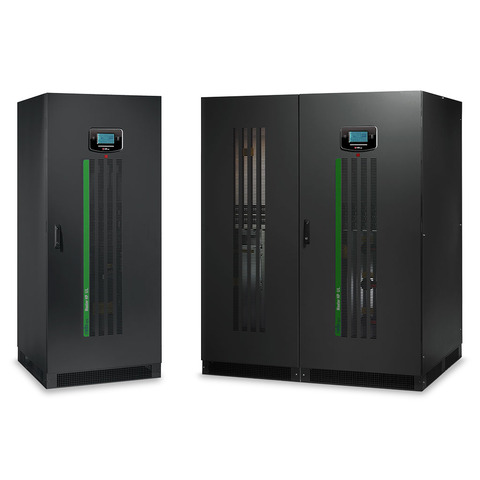 Brochures and data sheets
Technical specifications of the model
Zero Impact Source
The Master HP UL series features the added advantages of the Zero Impact Source formula offered by an IGBT-based rectifier assembly. This eliminates problems connected with installation in networks with limited power capacity, where the UPS is supplied by a generator set or anywhere there are compatibility problems with loads that generate current harmonics. Master MHT UL series UPS have zero impact on the power supply source, whether it is a utility grid or generator set:
Input current distortion < 3%;
Input power factor 0.99;
Power walk-in function that ensures progressive rectifier start up;
Start-up delay function, to restart the rectifiers when utility power is restored.
This provides savings in installation costs via:
A smaller electrical infrastructure;
Smaller circuit protection devices;
Less wiring.
Battery Care System: maximum battery care
Master HP UL series UPS include a range of features designed to prolong battery life and reduce usage by using different recharging methods; deep discharge protection, current limitation, and voltage compensation based on ambient temperature.
Flexibility
Master HP UL is suitable for a wide range of applications including IT and the most demanding industrial environments and processes. With several operational configurations including ON LINE, ECO, SMART ACTIVE, STANDBY, Frequency Converter and Voltage Regulation. A broad range of accessories and options, complex configurations and system architectures can be achieved to guarantee maximum power availability and the option to add new UPS without interruption to site operations.
Main features
Compact size: e.g.: only 2 330 square inches (1.5 square meters) for the Master HP UL 500 kVA;
Reduced weight for transformer-based UPS;
Double load protection, both electronic and galvanic, towards the battery.
The entire Master HP UL range is suitable for use in a wide range of applications. The Master HP can supply any type of load, e.g. servers, controls, lighting, capacitive, switch mode. Power supply reliability and availability are ensured for critical applications by distributed parallel configurations of up to 8 units, for redundant (N+1) or power parallel configurations.
Advanced supervision
​The Master HP UPS has a front panel mounted graphic display providing UPS information, measurements, status updates and alarms in multiple languages, with waveform displays including voltage/current and providing a kWh reading that can be used to measure IT loads and calculate a Data Centre PUE (Power Usage Effectiveness) ratio.