January 30, 2020
Riello UPS announces an expansion of the Multi Power range
New MPX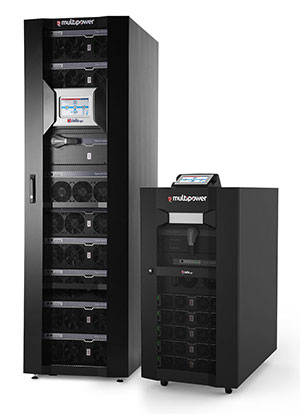 Riello UPS announces an expansion of the Multi Power range: its modular, compact, high-performing UPS ideal for high density data centers.
The two new MPX power modules of 15 kW and 25 kW in 2U height are the result of continuous research into the latest technologies for three-phase uninterruptible power systems and incorporate all the characteristics and benefits of the existing best-selling range of 25 kW and 42 kW power modules.
Even with these new models it is possible to achieve operating efficiency greater than 96.5% in ONLINE double conversion mode, allowing you to save energy while maintaining high levels of performance and availability.
The Multi Power range is the ideal solution for the high levels of management complexity required by data centers, ensuring expandability over time. The small footprint of the Power Cabinet (a cabinet made up of only power modules) and the compactness of the Combo Cabinet system (a cabinet containing both power modules and battery strings) ensure it meets the modern power protection needs of IOT applications, EDGE computing systems and Micro Data Centers, ie distributed applications aimed at reducing latency and improving network connectivity for data transfer and processing, which require exceptional installation flexibility and power protection.
Download the complete press release