9. September 2020
Sentryum passes Belfast International Airport test with flying colours
Sentryum, the perfect power solution
Replacing an end of life UPS with Sentryum by Riello UPS, the third-generation, transformer-free, high-efficiency UPSs, helped the Belfast International Airport reach a new milestone in space-saving and energy efficiency. The airport is Northern Ireland's biggest and it is also the second busiest on the island of Ireland. Located 13 miles northwest of Belfast near Aldergrove village, more than 6.2 million passengers used its services during 2018. This ranks Belfast International Airport in the top 10 of all UK airports. Operators such as easyJet, Jet2.com, and Ryanair use the airport to fly to UK mainland sites and several popular holiday destinations including Alicante, Amsterdam, Faro, and Malaga.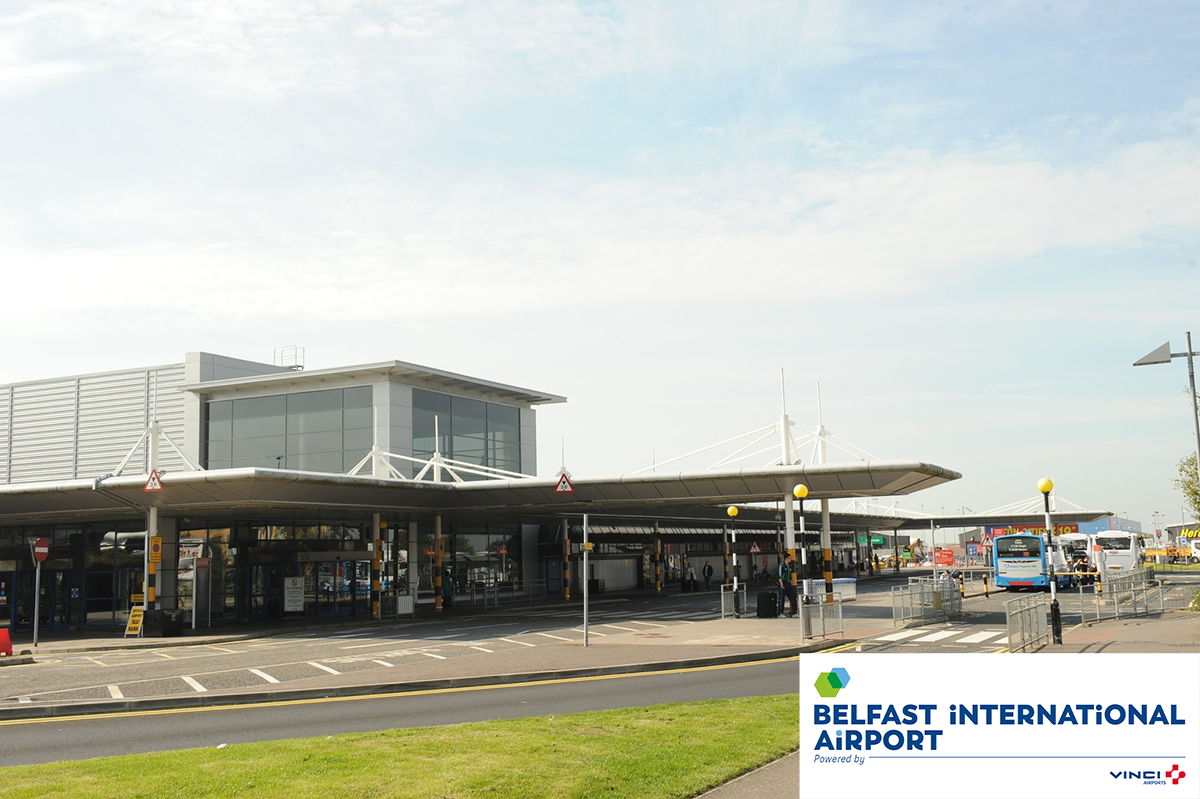 FLYING HIGH: The entrance to the terminal at Belfast International Airport
Project Partners
As a mission-critical site, Belfast International Airport has several uninterruptible power supplies installed to backup crucial IT and operational systems. Any loss of power would lead to huge disruption and damaging delays for passengers. The financial and reputational costs of the airport could be huge.
For more than 20 years Ashdale Engineering Ltd certified reseller and Riello UPS service partner has been working with Belfast airport. The Belfast-based electrical engineering company has supplied and maintained several UPS systems at the airport and also carries the stringent accreditations that BIA requires for all vendors. When it came to replace the existing end of life 10 kVA UPS in this case study, Ashdale Engineering Ltd identified an obvious choice.
"Riello UPS's new transformer-free range the Sentryum was the ideal replacement for the existing UPS system. In this case, we supplied a 15 kVA single-phase input and output UPS with internal batteries" – Colin Simms, Operations Director for Ashdale Engineering Ltd
Sentryum, the perfect power solution.
Sentryum, available in the three configurations - Compact, Active, and Xtend - and power sizes of 10, 15, and 20 kVA, offers a unity power factor (kVA = kW) and an exceptional efficiency up to 96.5% in double conversion ON LINE mode, providing minimal energy wastage. The Riello UPS range is the third generation of transformer-free uninterruptible power supplies and is easier and more cost-effective to maintain than previous models. One of the main advantages of the Sentryum range is the three different cabinet sizes (Compact, Active, and Xtend), which offers end users a choice depending on the space available and the battery life required.
For Belfast airport, the Compact (CPT) version of Sentryum was chosen, which occupies a very small space inside the airport communications room (footprint of about 0.25 m2). While Sentryum offers the versatility of three-phase input and output, single-phase output, or three-phase input and output, the installation featured single-phase input and output.
To find out more, download the Belfast Airport Case Study below or ask for information about the Sentryum range.